Customer Photos
Have you purchased Retro USA parts? Send us pictures of your car with Retro USA parts and we will post the pictures here!
Click on the photos to view larger versions.
CHROME and more CHROME. Thanks to James for sending us pictures of his chromed out Camaro.
Rick loves his Retro USA Camaro Kit. Listen to what he said, "I like the quality and fit, I like the way it sets the car apart from the rest of the crowd. I'm 50 years old and a '69 Camaro was a special favorite for my generation and the Chrome Bumpers and trim really make good old memories from days gone by seem to become real once again with Retro USA's stuff installed on my 2010 SS Camaro. Thanks for a nice looking product." –Rick B.

Check out these awesome pictures from Grant and listen to what he said about his Retro USA Challenger Kit. "Sending a few pictures of my 2011 Dodge Challenger outfitted with RETRO USA bumpers, trim and rocker moldings. Very happy with everything. Car gets looks EVERYWHERE I go. Chrome looks great with Tunsten metalic paint. Thanks for a great product!! Hope to see a couple of my pictures on your web site soon. Only challenger, I have seen in the El Paso area with the Retro USA kit, believe me it stands out. Local dealers are all very interested in the look."–Grant
Here are some great pictures of Don's beautiful Challenger. Thank you for the pictures Don!
Listen to what Scott said about his Retro USA Bumpers. "Here are a few photos of my Mustang with the Retro Bumpers. These have to be the best thing I have bought for my car, well worth the money! Even though my wife thought I lost my mind. The looks I get going down the road, I may have almost caused a few accidents from people looking so hard and taking photos of the front and back with their cell phones while going down the highway. Thanks again, these picked up where Ford left off. Again I love these. Thanks." -Scott E.
Check out these great pictures from Dell.
Buchanan Auto's Beautiful B5 Blue Challenger! Check out our

Find Installer/Retailer Page

for more information on Buchanan Auto.
Take A Look at Ike's Sleek Challenger!
No one says it like Larry. "I received the front and rear bumpers and trim kit. I must say the fit up was excellent and the results are awesome. A complete new look for my Dodge Challenger. What great product!!!! Nice to do business with Retro USA." -Larry K.
Check out Dennis's Beautiful Bullitt!
The subtle touches make the difference! – Thanks Chris!
Tony Knows the Chrome Looks Great on His Challenger
"The Great Pumpkin" arrived just in time for fall – Thanks Brian!

We Love the Look of This Purple Challenger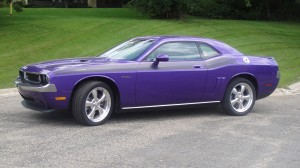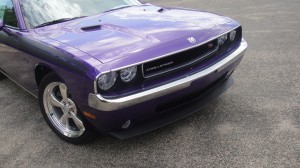 Jeremy Shows off the Retro Chrome on his Beautiful Camaro SS
Connie's Chrome Camaro – Lookin Good!
Earl's White Hot Retro Styled Camaro