RetroUSA Receives Gold Medal at Thermoforming Conference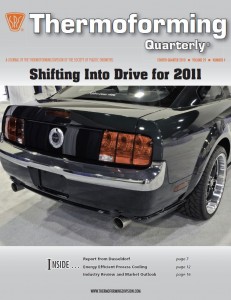 Retro USA announces that their Chrome-TechTM bumpers were awarded the Gold Medal in the Heavy Gauge category during the Society of Plastics Engineers" Thermoforming Conference held Sept. 18-20th, 2010. Chrome-Tech combines two tried and proven products, chrome film, which will not rust, crack, chip or peel with TPO, the gold standard for automotive plastic. The film is laminated to the TPO sheet prior to thermoforming, a process which produces consistent, high-quality parts. The product is extremely lightweight, durable and weather resistant.
About RetroUSA
Retro USA offers Chrome-Tech Accessories for 05-09 Mustang, '08-11 Challenger, '10-2011 Camaro. Iconic style trim pieces; shark gills, ice cube trays, quarter scoops, quarter moldings and rocker moldings finish the look of these re-born pony cars. All are easily installed with double stick attachment tapes – no modifications required. All Made in the USA.
Contact: Donna Green, Retro USA, 877-473-8768, www.retrousa.net
Click Here For a printable version of this Press Release